B l u e p r i n t
13 January 2024
KAFKA is the two-headed band of Dafne Holtland and Frank van Kasteren, an amalgamation of musical contrasts.
Bring those two worlds together and you get KAFKA. The musical walking hand-in-hand of two people who have exactly what the other does not. How does that sound? Cheerful and thoughtful. Sometimes bombastic melodic, at other times layered, soft and modest. Kafkaësk exciting, followed by the harmonic conclusions you hope for. With a languid raw undertone – rhythmic, burrowing and uplifting..
More »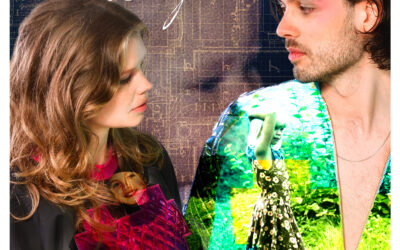 Yay our new single 'Blueprint' is out on all musical streaming platforms! What if you were the blueprint of your perfect, ideal life? The life you could live. Then how would you know what that life would be? What to become, what to want, be or not be. These never...
read more
She: a sky-blue voice. As 'up' as it gets. Light, lyrical, rounded, and harmonic, yet brazen as rock 'n' roll. Hand her an instrument and she'll play, fingers flying with equal parts childlike innocence and formal training. That's what happens when you learn to play classical music, are drawn into light (pop) music, and bring in the technique, 'zhuzh', and art of improvisation from the world of theater.
And what about him? Frank van Kasteren. Alternative songwriter.
A workhorse on any instrument, unpolished but skilled, and with a composer's perfectionism. Seeks the surprise of musical contrasts, adds raw beats, and tinkers until it sounds as it should. An experienced songwriter, guitar player for various bands, and creator of beautiful LP's.
<!=========Events list Template 2.3.1=========>
Witte Kerkje, Holysloot,
Dorpsstraat 30
Amsterdam
,
1028 BE
Nederland
+ Google Map
Maarten Heijmans zingt Ramses Shaffy & Kafka op 24 november 2023 om 20:00 Maarten Heijmans scoorde hoge ogen met zijn vertolking van de titelrol in de dramaserie Ramses. Het leverde […]
Lees meer »
24
November
2023
20:00 - 23:00
Melkweg Amsterdam,
Lijnbaansgracht 234A
Amsterdam
,
1017 PH
Nederland
+ Google Map
De tweekoppige band KAFKA, bestaande uit Dafne Holtland en Frank van Kasteren, brengt twee muzikale werelden samen: die van producer en singer-songerwriter en die van harmonieuze zangeres en muzikale virtuoos. […]
Lees meer »
13
January
2024
20:30 - 22:00